Director, Ella Marchment
Designer, Holly Pigott
Composer, Camille Erlanger (1911)
Wexford Festival Opera, Wexford, Eire
October–November 2023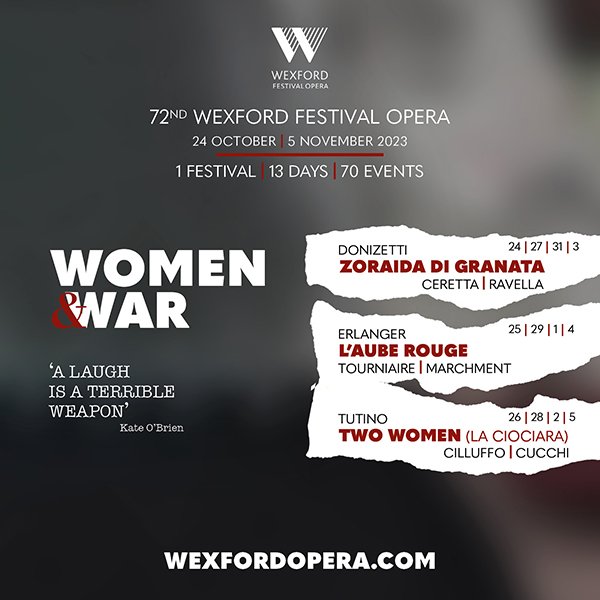 Introduction
For production photos, click here.
A respected composer during his lifetime, Camille Erlanger was a Prix de Rome winner and a Léo Delibes student. Over time, however, his work has been neglected.
L'aube rouge follows the story of Olga, who strives to save her nihilistic and blinkered partner Serge who believes that change comes only through violence. Their inevitable fate plays out against a beautifully nuanced score.
Introduction by Wexford Festival Opera
Reviews
Audience Feedback
Absolutely mesmerizing … the best production I've seen in the thirty years I've been coming to Wexford.

Audience Feedback, Wexford Festival Opera
Opera Wire
Ella Marchment did a fine job … to bring about a strong staging … which helped create a rich context for the main drama to play out. Its pacy, engaging narrative, attractive melodies, excellent singing and imaginative staging all combined to keep the audience entertained.

Alan Neilson, Opera Wire
Opera Today
The hospital scene was sheer perfection. Composer and librettists had their best success in this pivotal act, and director Marchment and her cast leapt to the opportunity. Everyone was connecting. Feelings were coming from the depths of the soul. Characters were really relating, and the pain, sacrifice, and yes, loving heartbreak spilled off the stage.

James Sohre, Opera Today
Business Post, Eire
This French opera … moved swiftly and coherently in a manner that wowed the audience and the acclaim received was generous and genuine.

Dick O'Riordan, Business Post, Eire
The Irish Times
The plot is interesting … rich and passionate … the updating by the production's director, Ella Marchment, and designer, Holly Pigott, looks well.

Michael Dervan, The Irish Times
The Stage
Ella Marchment's staging … is invariably clear and cogent … visually shocking for the moment when Serge's bomb finally goes off.

George Hall, The Stage
The Arts Review
Erlanger's tale of star-crossed lovers is not without some style … evident in Ella Marchment's energetic production … Wexford Festival Opera continues to enrich opera's present by reclaiming its past, sifting through the dust at times to uncover long forgotten jewels. A stylish move. Proving, yet again, that style never goes out of fashion.

Chris O'Rourke, The Arts Review
L'AUBE ROUGE, Synopsis
Act I
L'aube rouge (The Red Dawn) is a tragic opera that opens in an abandoned hangar in St Petersburg, Russia, during a period of severe political oppression. A group of revolutionary nihilists gather around a fire, ruing the state of the nation and imagining a future in which the people rise up against the tyrannical rulers who have oppressed and murdered their loved ones. With their former commander having recently been executed, the group discuss who should take his place, and they are quickly drawn to the idea of the handsome Muscovite student Serge Markariev being their new leader. Serge arrived in St Petersburg earlier that day, and the group expects him to join them soon.
However, the first person to appear is not Serge, but Olga Lovarof, the daughter of the general who ordered the execution of their former leader and other members of their group. The group swiftly turn on Olga, believing her to be a spy. Olga is saved from being murdered by the timely arrival of Serge, who commands the group to stop what they are doing.
Olga explains that she knows that their former leader Boris Koutousof has been executed, saying that she has come to give them the news and to express her regret for her father's actions. Serge not only verifies this story but also makes it clear that Olga saved his life and the lives of two other members of the group – Pavlovich and Tehdrin.
The group's interrogation of Olga is disrupted by the arrival of the police, who have been sent to arrest the group and stop their activities once and for all. But Olga intervenes, confronting the police captain by making it known that she is General Lovarof's daughter. She tells the captain that the people she is with are her friends and not the rebels he is looking for. The captain has no choice but to accept Olga's word, and he retreats with his men, leaving the group alone with Olga once again.
Given that Olga has just saved them all from arrest, the group accepts that she has their best interests at heart but are apprehensive about being arrested by the police. They disperse into the night, leaving Olga and Serge alone in the moonlit building.
Olga and Serge run into each other's arms, and we learn for the first time that they are star-crossed lovers from opposing political factions. They contemplate the destiny that has brought them together and express their desire to marry despite their differences. Olga suggests that the best way forward for them would be for her to abandon her father, and for Serge to renounce his political activism. She knows that if he doesn't, at some point death will claim him. Olga sees their love as offering Serge the chance to escape an ill-fated end. Serge eventually swears to be Olga's lover forever, and with that promise binding the two together they return to the city.
Act II
We rejoin the story thousands of kilometres away on the Mediterranean coast at a wedding reception in Nice. While it would be natural to assume that this must be Olga and Serge's wedding, the sight of military uniforms very quickly tells us that Olga – through a marriage to Pierre de Ruys, a celebrated surgeon – has become a pawn in a political union between Russia and France. Generals, grand dukes, counts, and countesses are the main attendees at the wedding, and Olga's father is quick to praise the political merits of a closer alliance between the two nations.
When Olga and Countess Stracka – who is like a mother to Olga – are alone, Olga breaks down and cries in the countess's arms. We discover that Olga agreed to marry Pierre because she had been told that Serge had been shot and killed in Siberia. Olga is now in turmoil because she has broken her vow to love Serge and to have no other for all eternity.
As Olga succumbs to despair, a man appears who Olga does not immediately recognize. It is Serge, disguised as a dignitary to gain entrance to the reception. Serge explains to Olga that her father has tricked her into believing him to be dead and that the ruse has succeeded as she is now married to Pierre.
The pair hatch a plot to run away and for Olga to join Serge in bringing down the Russian dictatorship. Just as they are about to disappear into the night, the countess warns them that Olga's husband is coming. With Olga promising to meet Serge later and declaring that the future will be theirs together, Serge runs off into the night.
Pierre implores Olga to enjoy the wedding reception and to let go of her memories of Serge. Instead of acquiescing, Olga challenges Pierre, asking him what he would do if Serge were still alive. Pierre claims that he would kill Serge, which angers Olga into revealing that Serge isn't dead. Olga draws out a concealed knife from her bodice, warns Pierre not to follow her, and runs off into the darkness of the night.
Act III, Scene I
Serge and Olga are now living as political exiles in Paris. While their set-up is simple, Olga feels that she has everything she wants. Two members of Serge's group who were present in the opening scene in St Petersburg – Sonia and Tatiana – are also in Paris. They are trying to understand what the couple are doing and why Serge's commitment to toppling the Russian political system has seemingly waned. Olga promises them that even although they are less active than they had been, they are both as committed as ever to the group's aims.
Sonia tells Olga that one of their comrades, Vassili, has just arrived in Paris from Russia, and Olga immediately invites the whole group to tea later that afternoon.
Sonia and Tatiana leave, and Serge returns home. Olga and Serge sing a duet about the power of their love and their mutual desire, but Serge starts to express fears about their happiness soon turning to pain.
The friends gather in the afternoon, and when Olga leaves the room, the group turn to Serge. They tell him that their comrades feel that he has deserted the cause and betrayed the principles they stand for. This immediately riles Serge, who demands that his loyalty to the group be tested. He is angry because his peers cannot accept that he can be equally committed to both the cause as well as to the woman he loves.
Olga reappears in traditional Russian dress and sings to the group. A sense of calm is restored as the friends drink tea, smoke cigarettes, and nostalgically remember their homeland in better days.
They are disrupted again by the arrival of the final member of their party, Vassili, who informs the group that Grand Duke Grégorief is passing through Paris and that one of them must assassinate him. Vassili says the assassin will be chosen at random, and he places pieces of paper on the table with each one bearing the name of a member of the group. Olga is told that she must select one of the pieces of paper, and by chance she picks the one with Serge's name on it. Grief-stricken by her selection, Olga immediately says that she will take Serge's place, offering to sacrifice herself for the sake of her true love and trying to persuade Serge not to take on the mission. Eventually, Serge gives in to Olga's pleas, angering the group, who regard the lovers' actions as being traitorous. In a fit of anger, Vassili draws his revolver and shoots Serge.
Act III, Scene 2
The action moves to a hospital run by nuns. The sisters are enjoying the day when Olga's and Kouraguine's voices disturb the peace. Olga pleads to be allowed in, and together with Kouraguine she stretchers the injured Serge into the hospital. They claim that Serge is a Russian student who needs help. One of the sisters swiftly triages Serge's wounds and realizes that the bullet has penetrated deep into his body. With no time to lose, one of the sisters rushes to fetch the surgeon, and Olga is urged to go to the chapel to pray for Serge's life.
The surgeon appears, stopping Olga in her tracks. It is her spurned husband, Pierre de Ruys. Pierre immediately turns to go, but Olga begs him to be charitable and to save Serge even though they are rivals. In the end, Pierre accepts his duty as a doctor and agrees to operate on Serge. Kouraguine and Olga are left to pray while the operation takes place.
Pierre eventually reappears and tells Olga that he has saved Serge's life. Olga falls to her knees, full of grief and gratitude.
Act IV
Time passes, Serge recovers, and we learn that he and Olga have returned to Russia illegally and joined a group of travellers on the outskirts of Moscow. Olga is under the impression that Serge's father is sick and that Serge has returned to Russia solely to see him. This turns out to be a deceit, and we learn that Serge believes that his life has been spared because his work to topple Russia's despotic regime remains to be done. Serge is now committed to the idea of martyrdom, and this time no one will be able to dissuade him. Kouraguine and Serge talk in private about the fact that he is soon to depart for Moscow, where he will carry out a suicide bombing to assassinate the grand duke in the full knowledge that his own life will be lost.
Kouraguine agrees to stay with Olga while Serge assassinates the grand duke, preparing the paperwork Olga will need to escape to France when Serge is dead.
Olga and Serge have a final conversation in which Olga raises her fears about Serge's trip to Moscow. Serge holds her close to his chest and gives her false reassurances about his return and their plan to leave Russia later that night. They sing about divine rebels and all the ideals that Serge believes in, and once again they reaffirm their eternal commitment to each other.
Serge leaves for Moscow, and Kouraguine hands Olga the paperwork she needs to abscond to France. The travellers who had previously been dancing start to return. They resume dancing while Kouraguine and Olga look on. Olga starts to feel a growing unease and points out that the travellers' strange music is enveloping her. As panic continues to build, Olga's intuition becomes ever stronger and she eventually gathers herself up to set off after Serge.
At this point, the sound of a detonating bomb rings out and l'aube rouge lights up the horizon. The travellers stop dancing immediately, and in that very moment Olga realizes exactly what has happened and that Serge has lied to her about only going to Moscow to see his father. Olga repeats the final words she shared with Serge before he left, and she starts to dance among the travellers, manically imploring them to join her. She keeps dancing and feels every drop of energy drain from her body. Olga collapses to the floor, dying of a broken heart.
Kouraguine, who has witnessed the entire scene, bends over Olga's body and implores heaven to forgive them all.
© L'aube rouge synopsis by Ella Marchment, 2023
Wexford Festival Opera
With a unique vision, outstanding production values and spectacular setting in a beautiful small town, Wexford Festival Opera is a remarkable success story that looks set to continue for many years to come.
– Wexford Festival Opera
Video
Photos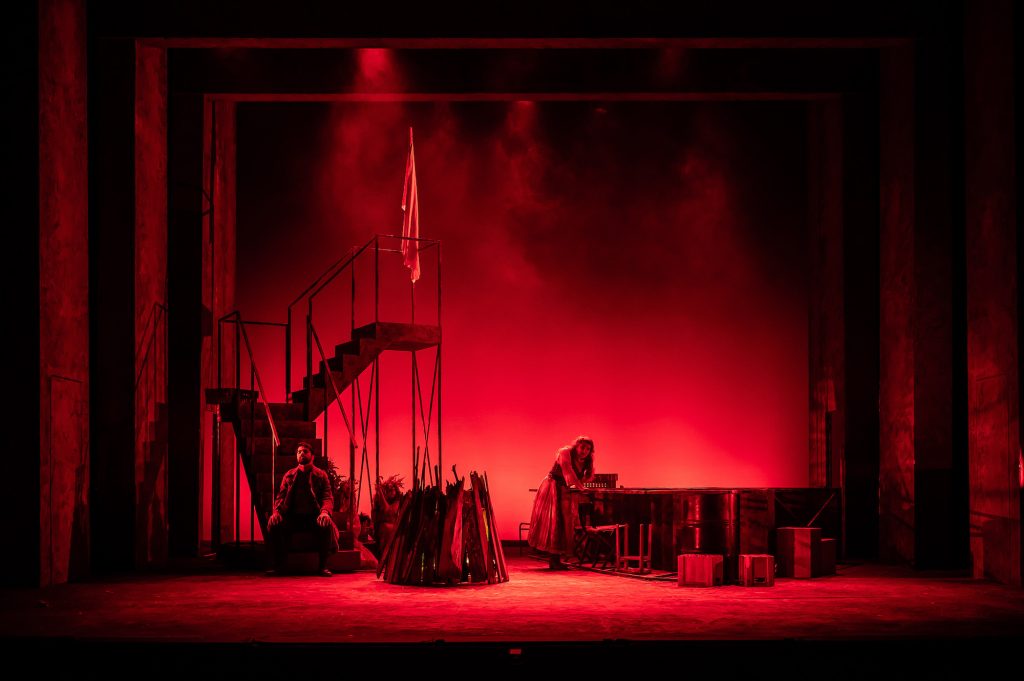 All photos (C) WFO2023 L'aube Rouge – Clive Barda / ArenaPAL