Director, Ella Marchment
Movement Director / Choreographer, Adam Haigh
Designer, Rufus Martin
Conductor, Jeremy Carnall
Composer, Jules Massenet
Librettist, Louis Gallet
Company, Dorset Opera
Theatre, Coade Theatre, Bryanston, Dorset
July 2023
Reviews
The Guardian ★★★★
In every respect, it's a show that does full justice to a forgotten opera, which perhaps deserves a bit more attention than it currently receives (…) it does a very fine job of suggesting an opera conceived on the most sumptuous scale.

Andrew Clements, The Guardian
Daily Mail ★★★★★
This was a performance full of good things, especially true of the director, Ella Marchment.

David Mellor, Daily Mail
Opera Today ★★★★★
Massenet's Le roi de Lahore is not a masterpiece of the first water, but this performance showed that if performed with style, imagination and commitment it more than holds its own. And what Ella Marchment, designers Rufus Martin and Stewart J Charlesworth, and the whole team added to this was a little bit of theatrical magic that really did transport us.

Robert Hugill, Opera Today
The Stage ★★★★★
Wow-factor level of glamour. Impressive, too, is the clarity of Marchment's storytelling, allowing her to make something involving out of the fantasy tale of Alim, an 11th-century King of Lahore murdered by his jealous minister, Scindia, who desires Sitâ, the king's beloved.

George Hall, The Stage
Opera Scene ★★★★★
Theatrically voluptuous, picturesquely medieval Indian, director Ella Marchment's take on the neglected Massenet work plays well to the strengths of Dorset Opera; a knock-out, strong chorus, fine young players and singers, with expert guidance (…) quite an ambition and quite an achievement.

Mike Smith, Opera Scene
Classical Source ★★★★★
The opera may have been composed by Massenet for the fabulous setting and resources of Paris's Palais Garnier, but this production shows what an impact can still be made on a much smaller scale with imagination and attention to detail. Despite the work's melodramatic elements there is a seam of emotional sincerity which is revealed here to be worth the occasional revival.

Curtis Rogers, Classical Source
Synopsis by Dorset Opera
The King of Lahore (le roi de Lahore), Alim, is in love with Sitâ, a chaste priestess of Indra who he has secretly been visiting in the temple. The King's minster, Scindia, is also in love with Sitâ and begs her for her love. When Sitâ rejects him, Scindia swears revenge and orders her execution. To protect her, King Alim is forced to reveal his own illicit love for her. The High Priest Timour pronounces that to atone for this sin Alim must go into battle against the advancing Muslim army. Scindia schemes to have Alim attacked and seizes power for himself. Alim returns wounded and dies in Sitâ's arms.
In Paradise, Alim appears before the goddess Indra who agrees to his reincarnation – but as a commoner – and with his life linked to Sitâ's. If she dies, he will die too. Reincarnated, Alim finds Sitâ mourning his death and still pursued by Scindia. Scindia orders the revenant killed but High Priest Timour intervenes.
Hiding in the temple to avoid forced marriage, Sitâ draws a dagger to kill herself but is surprised by the arrival of Alim and they try to flee. However, Scindia arrives with his soldiers and, trapped, Sitâ stabs herself. Alim feels the same blow and dies with her. Sitâ and Alim are united in celestial paradise.
Dorset Opera
Le roi de Lahore has long been touted as a Massenet must-see. It bears all the hallmarks of our previous Massenet successes – Hérodiade in 2006 and the British stage première of Le Cid in 2018: great declamatory fanfares and 'Grand Opera' chorus tuttis intertwined with glorious love duets and arias – everything to fire your senses and stir the soul. It also gives Dorset Opera the opportunity to showcase talented opera singers of South Asian heritage in the principal roles.

Dorset Opera
Video
Video courtesy of Adam Haigh
Photos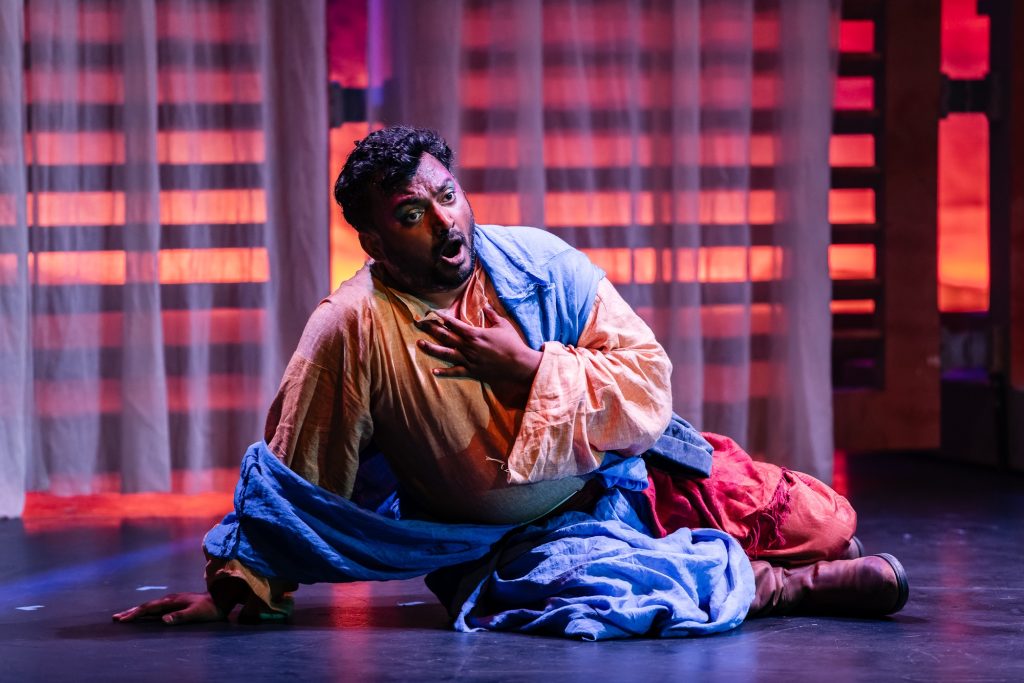 All photos (C) Julian Guidera