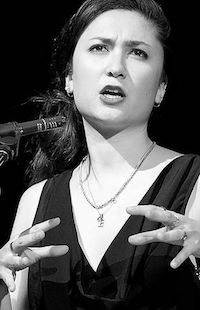 Ella Marchment – artistic director of Helios Collective and director of productions for Constella OperaBallet – has worked on over eighty opera and theatre productions throughout Europe and produced over one hundred events that span opera, ballet, musicals, concerts, theatre, comedy, workshops, club nights, art installations, and development programmes.
In 2017 Ella directed the International Opera Awards ceremony held at the London Coliseum in Covent Garden, home to English National Opera.
A big thank you to the remarkable Ella Marchment, who directed tonight's show. Our best ever.
– International Opera Awards
Ella's many directing credits include a groundbreaking reimagining of Purcell's Dido & Aeneas as Dido & Belinda in London; Alexander Goehr's Tryptich at Mariinsky II; an opera–ballet production of Stravinsky's Renard; a lauded international tour of Sir Peter Maxwell Davies's Eight Songs For A Mad King; London productions of Verdi's Macbeth and A Masked Ball with Opera Integra; a semi-staging of Puccini's Il Tabarro at LSO St Luke's; the world premiere of Noah Mosley's Mad King Suibhne for Bury Court Opera; acclaimed performances of Briar Kit Esme's Hathaway – Eight Arias For A Bardic Life, Christopher Hogg's Il Letto, Verdi's Otello, Charpentier's Louise, and Mozart's Lucio Silla at Buxton Opera; and a sell-out West End run of An Evening With Lucian Freud, starring Cressida Bonas. Ella is also co-founder of Theatre N16, a London-based arts company that promotes new plays and opera adaptations.
There is no doubt that Ella will be an important part of the UK and international theatre and opera scene in years to come.
– Kasper Holten, Director of Opera, Royal Opera House
Ella has worked for world-renowned organisations, including the Royal Opera House, the International Opera Awards, Wexford Opera, Copenhagen Opera, Bury Court Opera, Opera Mass Actions, International Opera, Buxton Opera, Melos Sinfonia, and Opera Integra. She is committed to creating professional development opportunities for young and established artists, as well as to solving the problems that impact on opera's accessibility and reach. Ella particularly enjoys presenting opera with a twist, having written and directed a play–opera adaptation of Wagner's Die Meistersinger, staged an electric rock-opera version of Puccini's Tosca, and established an opera club-night series, called Toi Toi, in Peckham, London.
In Ella Marchment, I see a director and artistic leader of imagination, assurance and style.
– Bernard Hughes
In 2015 Ella became the first director to receive an International Opera Awards foundation bursary. Her work is currently supported by Arts Council England and The British Council Artists International Development Fund, in association with Den Jyske Opera (Danish National Opera).
Tremendously enjoyable and accomplished…what a delightful operatic experience.
– Rupert Christiansen‏ of The Telegraph